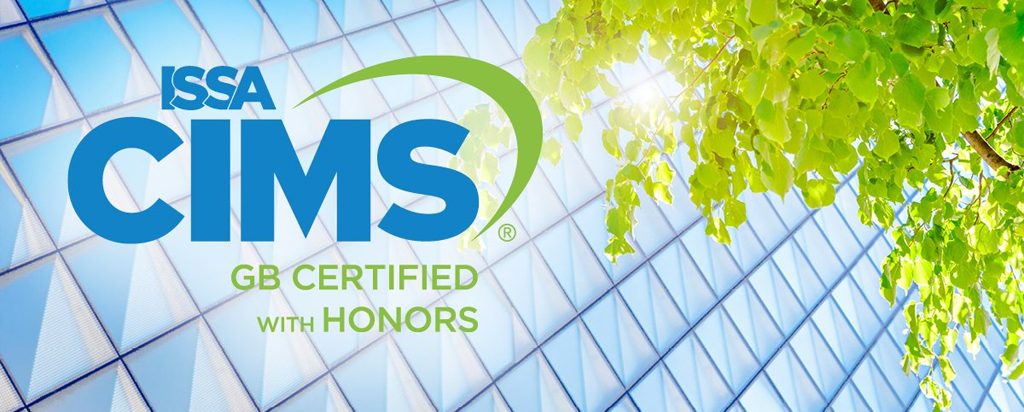 What does CIMS certification mean?
CIMS (Cleaning Industry Management Standard) is a management standard that defines the key characteristics of a successful, quality cleaning organization. Our CIMS and CIMS-Green Building certificates (with honours!) differentiate us from the competition, having undergone a comprehensive assessment by independent, accredited CIMS assessors.
Simply put, we have proven our pledge to deliver quality cleaning and facility services and have invested in environmentally enhanced protocols and products that meet today's industry needs and expectations. With our CIMS certification, you can rest easy and hire with confidence.
Meeting green standards
A commitment to sustainability, conservation, and chemical management is part of our IONFSM core values. That's why we are now CIMS-GB (Green Building) certified, doing our part to implement the CIMS-GB principles within our operations. We provide green cleaning services and assist customers in achieving points under the LEED-Existing Buildings: Operations and Maintenance (LEED-EBOM) Green Building Rating System.
What does our CIMS certification mean for FM professionals?
Proof of high-quality services

If you are looking to outsource your janitorial and facility services, our CIMS certification means we meet the highest industry standards for services and products. Our organization and contractors have gone through a thorough assessment process to become certified.

If you are one of a growing number of facility managers and procurement professionals who require that contractors and cleaning services are CIMS certified, you can rest assured knowing that we've got you covered.

Wide range of services

CIMS certification covers more than cleaning services. During the evaluation process, other important business areas within the company are assessed such as management, educational pursuits, health and safety requirements, products and more. This comprehensive evaluation means that facility managers and procurement specialists can rely on us for so much more than just cleaning. We offer a wide range of services beyond janitorial; be sure to visit our website to learn how we can relieve your company's own resources and improve operating conditions while providing transparent pricing.

Customer focus

The International Facility Management Association (IFMA) supports the work and certification of CIMS. They understand that companies with a CIMS certification can improve the overall experience and make a facility or office manager's job easier. The increased reliability of working with CIMS certified cleaning companies and contractors is the peace of mind you need. IONFSM is a customer service driven organization that thrives on understanding our customer's needs and delivering value in quality, accuracy, timing and price.
Exciting possibilities
Our CIMS and CIMS-GB certifications demonstrate how we as an organization are committed to service and business excellence, while taking strategic measures to reduce our environmental footprint. We'd love to talk to you about our suite of facility maintenance and janitorial services – be sure to call us today.