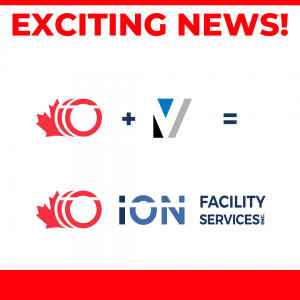 We are pleased to announce that IONFS has completed the asset acquisition of Veranova Facility
Management Division. To welcome Veranova Facility Management Division to our family is a milestone event for IONFS that significantly enhances our position in the market and our value proposition to clients. 
Uniting IONFS's leading cross-Canada commercial services platform with thousands of projects and property businesses across the country will position our company as one of the only companies in Canada capable of providing building owners and managers with a full range of core facility maintenance services. Through this acquisition, we are now able to offer our clients a deeper suite of best in class outsourced services - a one-stop-shop for all of their facility maintenance needs.
Our model moves away from a traditional call center approach. Instead, we focus on providing our clients with experience customer service specialists who are able to help solve problems and identify solutions.
Taking care of the little things matters. Focusing on 'branch level' services is our specialty.
We believe in responsibility, honesty, integrity and exceeding our clients expectations in order to get the job done.
Leadership is at the core of what we do. We strive to empower our employees to become leaders. Through strategic insight, collaboration and dedication, we also strive to be leaders in the industry.
Our strategy involves keeping our overhead costs low, in order to ensure a lean, cost effective operation.
We strive to stay up to date with industry news and trends in order to ensure the best possible service available.
We believe in building strong, collaborative relationships with our partners, clients and vendors.
Our team is an investment. We ensure that our team members are safe, inspired, productive and happy.